We have been dreaming of selling these cookies since the infancy of platine, but most of them don't ship well. Now that we have expanded beyond the internet and have our retail store, you can enjoy these cookies in the LA area. They are our sophisticated version of some old favorites.

cheesecake brownies
'Our Best Brownie' is topped with a thick layer of NY style cheesecake and studded with mini chocolate chips, super rich and worth it!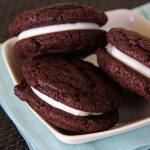 "platinos"
Our take on the OREO™ but a little softer and All Natural. We use Extra Brut Cocoa Powder, real vanilla bean, and all natural ingredients in our secret filling recipe.

dream bars
Our updated version of the '7 layer bar,' we use graham crackers, coconut, pecans, and top it with milk, white, and dark chocolate bars.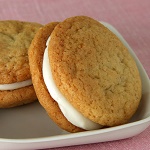 camées
Our take on the CAMEO™ (it's like a vanilla Oreo) provides a real sugar rush. We sandwich our all natural secret recipe filling in between 2 soft, thin vanilla bean cookies.